Summer is here!  My kids are all out of school now.  In previous years, my kid's elementary school was a year round school with a track schedule.  This meant my kids went to school year round with scheduled  3-4 week breaks throughout the year.  This year we switched to a traditional schedule.  This is better for Sassy.  Year round schedule was hard for her.  Just when she gets used to the school routine it was time to go off track for a break.  I am so glad she is now on a traditional schedule but am scared about how I will make it through the Summer.  I also want her to continue to learn while school is out.
We have put together a plan with her therapist of how to keep working on things she needs to learn while school is out.  We also have some items that will help us achieve our goals and I wanted to share them with you.
First is numicons.  When Sassy sees a number it is more or less just a symbol.  She can not visualize in her head what a number means.  So math is going to be hard.  This is where numicons comes in.  We need to get a visual for her so she can see what each number means.
Next is alphabet beats and number beats.  Since Sassy is spatially challenged it is hard for her to remember how to write each letter.  Anything that isn't a horizontal line or vertical line is hard for her.  She has a hard time writing letters and numbers correctly on her own.  The letters b, d, p, q, and y are especially challenging.  They get all twisted around for her.  This is where alphabet beats and number beats come in handy.  These cd's will give a verbal saying for each letter in order to help her remember how to write each letter.  It will work like a mnemonic that can help us remember things.
Another item we will be using this Summer is a hula hoop.  We won't actually hula hoop with it.  We are going to use it so Sassy will be able to visually see what personal space is to everyone, we call it a "bubble".  She has issues staying out of people's "bubble" and is something we definitely need to work on.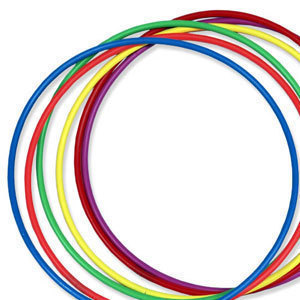 Last is little squares of red, yellow and green paper that has been laminated.  Sassy has a hard time realizing how loud she is sometimes with her voice.  The cards will help her get a visual each time and let her know if she is using the correct voice.  Obviously green is good, yellow is getting too loud and red is way too loud.
We are also going to have a weekly schedule so Sassy can have structure.  I am also going to create an "I'm Board bucket".  Sassy is constantly saying she is bored when she is at home.  We are thinking she gets bored because she can't visualize ideas in her head as to what to do.  I am going to have a bucket with pictures of different toys and activities for her to choose from.  When she is bored she can pick 3 things from the bucket to give her ideas of what to do, but she must pick 1 of the 3.
Hopefully we will have a good Summer and help Sassy improve while we have this time at home.